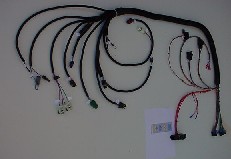 94-95 4L60E 4L80E TBI
If you have a 1994-95 TBI engine and transmission that will become part of a project then check this out. The transmission, 4L60E is an electronic transmission and requires the ECM to do all of the shifting and down shifting. Most of us are not into the electronics being part of the transmission but think about it, with the ECM controlling the shifting and down shifting, it makes it easier to modify the shift points. Shift later, shift sooner, hold first gear longer etc.
This harness will get you there with a pull out engine from a 94-95 GM truck. We sell this harness for people wanting to install a 4L60E into a non computerized engine and car as well. People have used this harness to do the transmission conversions like putting a 4L60E or 4L80E behind an older engine, yes even CARBED engine. The harness has the RED and BLUE connectors for the ECM numbers 16197427 or the 16196395 ECM only.
To do a conversion you will need the following signals to the ECM, coolant temperature, MAP sensor, engine RPM and Throttle Position Sensor. These do require the original type of speed buffer or "DRAC" module to calculate speed by tire size and gear ratio. You can get a module from almost any speedometer shop or we offer the modules as well. We need to have the rolling diameter of the tire and the gear ratio. Don't make it up because the module is not returnable for any reason. Check out Jags that Run for what they have to offer in the way of speed buffer modules, they are adjustable and seem to be a good product.